I have been watching some amazing reports coming out from my fellow Canadian real truth seekers, both Penny out in the insanity of southern Ontario who writes the blog: "Penny For Your Thoughts" at www.pennyforyourthoughts2.blogspot.com, as well as Greencrow, over in the wilds of southern British Columbia who writes the blog "Greencrow As The Crow Flies" at www.greencrowasthecrowflies.blogspot.com.... Both of these fine ladies have been covering reports coming out across Canada about victims who have taken the deadly KILL SHOTS into their bodies (which of course are NOT 'vaccines' at all..) suddenly coming down with horrible cases of Thrombosis, which of course is severe blood clotting in important blood vessels which can lead to DEATH in no time... I do recommend readers take a look at the fabulous job these two have done about that horrendous situation, as it shows once again to NEVER take these lethal injections into your bodies, period..
Well, Thrombosis is bad enough.. But I was sent the following link from another of my fine supporters earlier today, from the Russia Today website, at www.rt.com, where apparently the AstraZeneca crap that is NOT a 'vaccine' at all, but is a shot of certain death, has now been linked to a terrible neurological disorder called 'Guillian-Barre Syndrome' that is an autoimmune response that can potentially destroy a person's entire nervous system leading to certain death! Here in fact is that article for everyone to read for themselves right here, and of course I have my own thoughts and comments to follow:
Not only blood clots? EMA 'assessing reports' of AstraZeneca jab link to rare IMMUNE DISORDER
7 May, 2021 13:40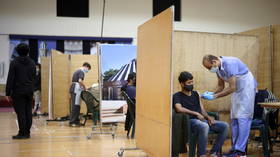 FILE PHOTO: A man receives an injection with a dose of AstraZeneca coronavirus vaccine, at a vaccination centre in Baitul Futuh Mosque, amid the outbreak of coronavirus disease (COVID-19), in London, Britain, March 28, 2021. © REUTERS / Henry Nicholls
The European Medicines Agency (EMA) is investigating reports of AstraZeneca's Covid-19 vaccine causing Guillain-Barre syndrome, as the pharmaceutical company remains embroiled in controversy over the jab's link to blood clotting.

In a meeting this week, the European Medicines Agency's Pharmacovigilance Risk Assessment Committee (PRAC) revealed that it was "assessing reports" of the rare immune system disorder being found in people following vaccination.

"As part of the review of the regular pandemic summary safety reports for Vaxzevria, AstraZeneca's Covid-19 vaccine, the PRAC is analysing data provided by the marketing authorization holder on cases of Guillain-Barre syndrome (GBS) reported following vaccination", the PRAC declared.

"GBS was identified during the marketing authorization process as a possible adverse event requiring specific safety monitoring activities", the committee continued, adding that it has requested "further detailed data" on the cases and will release new information as it becomes available.

According to the UK's National Health Service (NHS), Guillain-Barre syndrome is a "very rare and serious condition that affects the nerves", and can create feelings of numbness, weakness, and pain in those who have it.

Though the NHS advises that Guillain-Barre syndrome is a treatable condition and that "most people will eventually make a full recovery", it can also be life-threatening and leave those who have had it with "long-term problems"

Following hundreds of cases of blood clotting – and dozens of deaths – AstraZeneca's Covid-19 vaccine has already been restricted in many countries to older people only.

In the UK, those under the age of 40 are set to be offered an alternative vaccine provided this causes no "delays" in the vaccination program, however the European Medicines Agency maintains that the vaccine's benefits outweigh the risk for much of the population.
NTS Notes: Honestly.. People thought getting Thrombosis from these death jabs was bad enough.. But now this crap has been linked to the horrors of Guillain Barre Syndrome as well....
And I do therefore have to ask why in the HELL anyone with two brain cells to rub together would even consider going out and allowing these pricks to inject them with this experimental KILL SHOT that could do horrendous damage to them initially and eventually kill them as well??? But yes, the lemmings out there are still lining up and absolutely screaming these days to have these criminals inject them with these shots of certain death immediately..
But there are other concerns that we are still unaware of in regards to the horrors of these lethal injections.. And I will do my best to try to keep on top of any new findings that do come about, and report them here as well... So stay tuned..
More to come
NTS