Ever since the COVID-19 "virus" reared its ugly head about two months ago in Wuhan China, I had a gnawing suspicion that this "virus" was indeed a "biological weapon" that was unleashed on purpose by some criminal group and that their specific target at the time was China itself...... This is indeed a hard question to comprehend for the major reply would be "who benefits"? and "WHY China in particular and at this time point"?..... I have been searching for answers since....
And of course less than a month ago, we had the reports of this "COVID-19 virus" suddenly and out of the blue popping up in the peaceful nation of Iran! When that happened, I had my suspicions that the "usual suspects" meaning both the US and of course the psychotic state of Israel may have been the culprits behind unleashing this 'virus' on the people of Iran and PURPOSELY.... We all must not forget that the sickos in both the US and Israel are so hell bent on having Iran destroyed and would seek any means necessary for that destruction, even if it means unleashing a "biological weapon" on that nation...
Well, apparently there are others that are claiming that this "virus" that has been unleashed on both China and Iran may indeed be a 'biological weapon' with the purpose of decimating those nations... For according to the following new report that comes from the Fars News agency, at www.farsnews.ir, apparently the Iranian Civil Defense Chief is now claiming that this "COVID-19 virus" is a "biological attack" against both China and Iran! Here in fact is that article for everyone to see for themselves, and I do have my own thoughts and comments to follow:
Civil Defense Chief: Coronavirus Likely Biological Attack against China, Iran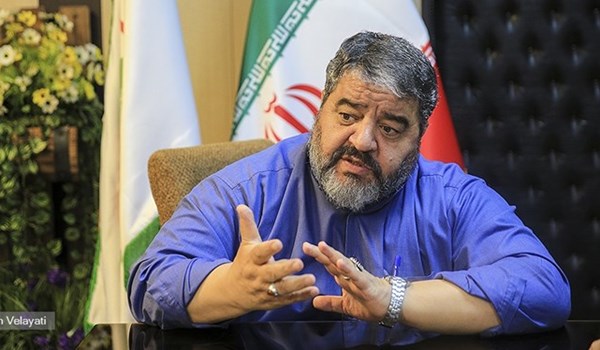 TEHRAN (FNA)- Head of Iran's Civil Defense Organization Brigadier General Gholam Reza Jalali said on Tuesday that the outcomes of the coronavirus epidemics and the western states' media propaganda suggest that COVID-19 virus could be a biological attack against China and Iran.
"A study of the consequences of the virus in terms of tolls or the extent of the epidemic and the type of media propaganda over this issue that is aimed at increasing fear and panic among people strengthens the speculations that a biological attack has been launched against China and Iran with economic goals," General Jalali told FNA.
He added that proofs and analysis and certain news reports indicate that the origin of coronavirus is a hostile state but proving this assumption requires laboratorial investigations and comparing the genome of the primary virus and the new genomes.
The Iranian Health Ministry said on Monday that the number of people infected with coronavirus in Iran increased to 1,501, adding that 66 patients have died so far.
It added that 291 coronavirus patients have been cured and discharged from hospitals across the country.
Reports from different cities and towns of Iran indicate strenuous efforts by the officials to help the coronavirus patients and prevent an epidemic.
The Iranian health ministry had said last Tuesday that over 700,000 sanitation packs, including equipment to prevent coronavirus-infection have been transferred to Qom province, the first place where the COVID 19-infection was diagnosed, and are being distributed among people.
As a preventive measure, Iranian authorities have ordered closure of educational and cultural institutions across the country as of weekend.
Tehran's municipality announced that all the city's public places, including the metro trains and buses, are being disinfected at the end of the line every hour as part of attempts to contain the spread of the virus.
Head of Food and Drug Administration Mohammad Reza Shanehsaz also said that pharmacies will no longer be allowed to sell protective masks and that masks will be distributed among the population via government-run centers free of charge, with the priority given to virus-hit provinces.
The World Health Organization (WHO) stressed Iran's high capabilities to prevent an epidemic of novel coronavirus infection.
Iran's Foreign Ministry hosted a meeting last Wednesday to brief a WHO representative and the foreign ambassadors residing in Tehran on the latest preventive and therapeutic measures taken by the country to contain COVID-19, as the novel coronavirus is called.
In comments at the meeting, the WHO representative said Iran has the necessary fundamental capabilities to tackle the epidemic, and that Tehran's performance has been as "successful and exemplary" in the region and the world.
The Iranian Health Ministry officials, who were also present at the meeting, reaffirmed Iran's commitment to the international health regulations and standards.
Iran enjoys all the technical and specialized capabilities needed to battle the coronavirus, they stressed.
NTS Notes: YES, this is indeed speculation and still open to a lot of debate... BUT the facts are that the sickness of Israel is basically in a "state of war" against the nation of Iran and would indeed use all means necessary to attack and destroy that nation's people including trying a "biological weapon" to do the trick..
Israel in fact does have a very long history of trying to destroy Iran... We must not forget of course how they tried, nearly 10 years ago to use a "Stuxnet computer virus" to try to disable Iran's commercial nuclear power plant. At that time, the Iranians were lucky for their technicians discovered that "Stuxnet virus" and had it eliminated from their nuclear reactor's safety systems to prevent a nuclear meltdown.... It is just too bad that the same "Stuxnet computer virus" was able to infiltrate the safety systems at Fukushima Japan and subsequently caused the meltdown of 3 reactors there!
It would therefore make sense considering how truly evil Israel's leadership is, that they would have this "virus" put into Iran and try to destroy Iran in the process..... We must also remember that we are dealing with psychopaths that care NOT for human life other than their own "tribe"!
I am still perplexed as to WHY China though? But as I mentioned a few months back when this "virus" first appeared in Wuhan, China, we cannot forget that at the time the US was still embroiled in an economic war against China..... If the US wanted to "win" that war and gain economic supremacy over China, the question becomes as to whether they would be diabolical enough to unleash this "virus" on the Chinese population and therefore potentially destroy China's economy!
It will be interesting to see if Iran is able to come up with some PROOF behind this speculation.... And if they are able to show the world that this virus was introduced into their nation on purpose, there will definitely be hell to pay.....
I am continuing with a wide range of reports about this COVID-19 "virus" with a lot of different points of view.... I am hoping to give readers a full picture of what we are really dealing with here, the probable causes, the disease itself, and who may be behind it all.... People deserve facts and should not fall for the hysteria being generated by the liars in the Jew spew media...
More to come
NTS