I had to take yesterday off once again as one of those "me days".... I spent a lot of time yesterday actually going out "computer shopping" for a new system to replace my old one that recently was giving me a bunch of fits..... Yes, 8 and 1/2 years with that device and now it has apparently "run its course" and is due for replacement....
I have been putting up article after article at this blog over the last few years discussing the massive failings of the Lockheed Martin F-35 "Lightning II" so called "fighter" aircraft that is absolutely one of the worse flying turkeys imaginable..... The entire F-35 Program will cost in the neighborhood of some 1.5 to 2 TRILLION dollars and give the US an aircraft that will be woefully inadequate for combat..... As far as I am concerned, the entire F-35 program should have been scrapped years back and the US defense department go back to the drawing board and come up with an aircraft that will actually work!
BUT.... What I found interesting is that it is not only the criminals behind Lockheed Martin that are fleecing the American taxpayers for a massive military contract that simply does not work... For apparently the criminals behind Northrop Grumman are at it as well with their huge military contract for developing and building the latest and greatest US bomber, the "B-21 Raider", that apparently is just as bad as the F-35 "Lightning II"... And to show readers just how badly the B-21 Raider program is progressing, I want to present the following article that comes from the Defense News website, at www.defensenews.com, where ta new report has just come out stating that the B-21 "Raider" is suffering from engine problems, but states that the program is still "on track".... Here is that article for everyone to see for themselves, and I do have my own thoughts and comments to follow:
Some 'hiccups' with engine design, but B-21 on track, Wittman says

By: Aaron Mehta and Valerie Insinna   1 day ago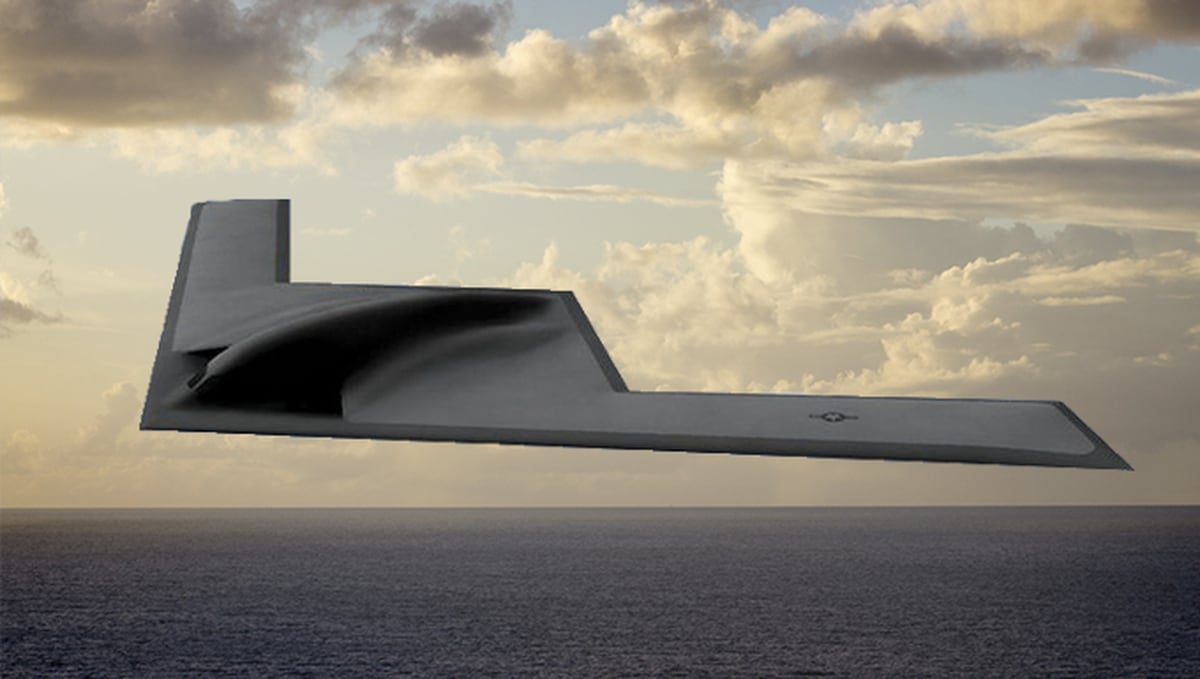 The B-21 raider faces some early hiccups with its design, including to its engines. (Design by Devan Feeny/Staff; Image by U.S. Air Force and Getty Images)

WASHINGTON — Despite a series of early production "hiccups" with the engines and wings, including an issue with air flow, the B-21 Raider bomber aircraft is largely on track, according to the chairman of the House Armed Services Seapower and Projection Forces Subcommittee.

Rep. Rob Wittman, R-Va., said he was largely pleased with the work prime contractor Northrop Grumman has been doing on the bomber program, praising in particular how the company has worked to integrate its subcontractors together to find solutions to early design problems. But he acknowledged there have been a few challenges that have popped up.

"This is an extraordinary, complex aircraft," Wittman, who has oversight of the B-21, told reporters after a speech at the McAleese/Credit Suisse defense conference held in Washington on Tuesday. "The issue is not that you have these uncertainties. The issue is how you address them."

Wittman's comments are notable given the intense secrecy surrounding the B-21. The service plans to buy at least 100 Raiders at a price of about $550 million, in 2010 dollars, per copy. The engineering and manufacturing development phase is being carried out under a separate, cost-plus contract that is estimated to amount to about $21.4 billion.

Wittman highlighted several times the challenge of pushing air through the B-21's engines. "This is a very, very different design as far as airflow, and there have been some design challenges there," he said.

"Pratt and Whitney says one thing; if the exhaust, the ducting contractor says another thing and says, 'There's only so much air we can move through there,' and Pratt & Whitney says, 'No, we need a certain amount of air to go through the front of the engine,' then the question is: How do you do that?" Wittman added.

Richard Aboulafia, an analyst with the Teal Group, noted widespread speculation that the B-21 will be a twin-engine, rather than a quad-engine, plane. If that's the case, early tests may have shown airflow issues that could require the Air Force and Northrop to make tough decisions on trade-offs because "turbines are hot and like large apertures ― two things that stealth hates."

The B-2 uses four F118 engines, which produce about 17,000 pounds of thrust. Pratt & Whitney's F135 engine, used in the F-35 Joint Strike Fighter and generally assumed to be the basis for the engines used in the B-21, can produce up to 43,000 pounds of thrust, which in turn requires greater air intake. Hence, the cowling for the B-21 engines may require trade-offs between the air coming in and the stealth characteristics.

For Aboulafia, this is "one of the most complicated parts of designing a stealth plane because there are many variables, but two of the very biggest are stealth and range."

"The turbine thing speaks to a possible need for compromise. It's not a deal-killer, but could that impact range? Sure. Range or stealth: Which do you want to compromise on? Or find some permutation therein," he said. "That's the real black art of aircraft design ― the trade-offs."

Other issues

More broadly, Northrop has been challenged to hire "enough engineers" to make sure the design stays on track, Wittman said, adding that the company is working to get an "Iron Bird" mock-up of the B-21 up and running — something that would serve as a physical test bed for some of the design and production elements.

The congressman also indicated there have been some "snags" with designing the wing for the B-21. It is believed Spirit AeroSystems is doing some of the work on the wing in their Wichita, Kansas, facility.

A spokesman for Northrop referred questions to the Air Force, while a spokesman for Pratt & Whitney declined to comment other than to say the company was "proud" of its work on the program.

"The Air Force remains confident in the B-21's progress and in delivering this new capability as planned in the mid-2020s," Air Force spokeswoman Ann Stefanek said. "While we cannot speak to program specifics, the Air Force Rapid Capabilities Office is actively working with the contractor to ensure the program's success."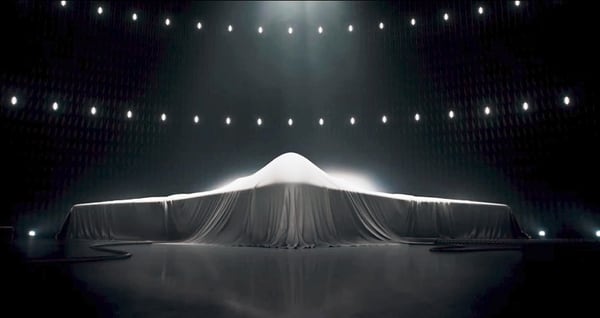 Northrop's work on the B-21 remains largely shrouded in secrecy. (Northrop Grumman)

Other subcontractors for the Raider include BAE Systems, working out of Nashua, New Hampshire; GKN Aerospace in St. Louis, Missouri; Janicki Industries in Sedro-Woolley, Washington; Orbital ATK in Clearfield, Utah, and Dayton, Ohio; and Rockwell Collins in Cedar Rapids, Iowa.

Though perhaps minor issues, they are notable because part of Northrop's plan to get the plane from contract to initial operational capability in about 10 years involves an admittedly fast-moving schedule, one the Air Force has raised concerns about. And part of that strategy for getting the bomber out on time involved a significant amount of subsystem work.

If those advanced components are having integration issues, even minor ones, it could force lag into an already tight program-production window, at a time when the Air Force is desperate to get the Raider fielded so it can begin retiring the B-1 and B-2 bomber fleets.

"Integration is a problem," Aboulafia said. "You can save a lot of time with doing subsystems in advance, but integration is always going to complicate things here and there. It doesn't make it a waste of time to do these designs in advance, but integrating, that's another issue."

Overall, Wittman praised Northrop for sticking to an "aggressive" schedule and said the company has been very smart about identifying potential issues early and then working to smooth them out before true production begins.

"I have been impressed with the viewpoint that Northrop has with this, with their willingness to address things in a very timely way to be on top of this," he said at the end of his remarks. "It is refreshing to see they are tremendously serious about making this happen and that they are holding [everyone on the B-21 team] to this high standard."
NTS Notes: Honestly... "Engine Problems" my ass.... This thing is turning out to be as bad as the F-35 and each copy of this flying POS costs about 10-20 times more than each F-35!
For the longest time I have been trying to tell everyone that this "stealth" concept simply does not work... The materials used for this 'aircraft' that are supposed to make it "invisible" to Russian and Chinese built radar systems only works along a narrow bandwidth and all that the Russians and Chinese have to do to see and identify this and other so called "stealth" aircraft is to vary their radar's frequencies and bandwidths.... That principle was indeed incorporated in the 1999 Serbian air war where Serbian radar installations were able to identify US F-117A so called "stealth" aircraft coming into Serbian air space by simply varying their radar signals! The result was at least 4-5 US F-117A aircraft were identified and shot down by Serbian SAM batteries...
Lets be honest here, for perception is the real game going on with these flying turkeys.... The B-21 is basically an off shoot of the B-2 "Spirit" that was sold to the public as a "stealth" bomber that looked pretty interesting with its flying wing design... And the public was sold on the idea that the enormous iniitial cost of each B-2 "spirit" at some $100- $200 Million dollars a pop was worth it for its "stealth" capabilities without even a thought or notion that "stealth" itself was a massive scam.... Now we have the more "advanced" B-21 "Raider" that is not only showing itself to be a massive flying POS, but will cost some 1/2 BILLION dollars a copy? When will the madness ever end???
Well, there you have it... Another flying turkey that is being sold to the US taxpayers as the "latest and greatest" aircraft... And one that will cost the US some 2 TRILLION dollars to boot!
Lets do the math here... 1.5 TRILLION for the flying POS F-35 program, and now 2 TRILLION for the flying POS B-21 program.... That adds up to some 3.5 TRLLION dollars for aircraft that will most probably be dismal failures and ones that will actually weaken the US defenses tremendously.....
I want to be honest here, for even a small portion of that 3.5 TRILLION dollars would not only fix every aspect of the failing American infrastructure, but would also give the US a fully funded and FREE medical and pharmaceutical program, AND would allow every single American to have a fully funded University education system that would not cost any Americans one single penny in new taxes! These are far more worthwhile for America than to be saddled with these useless programs that are building weapons of war that simply do not work!
More to come
NTS